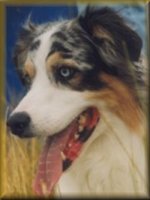 AKC Wins:  4/20/08 Potomac Valley Golden Retriever Club, Agility Trial

Qualified and placed 1st in Open Jumpers earning her 2nd leg in Open Jumpers.   She smoked the course with a clean run.

Qualified and place 2nd in both Ex Jumpers and Ex Std.    This makes this Moose's 2nd leg towards his Ex JWW and 1st in Ex Std.

NAFA Title
:  April 13
-
Rudae Root-Kins
  earns his FM (flyball master) title at the Viva Las Vegas Tournament put on by PBA.  He even met Elvis. 
Maggie
earned her FD and FDX at the same tournament.
March/April 2008 Issue of The Australian Shepherd Journal, 
CH Milwin's Unconditional "Moose"
is  ranked 5th in the Final USASA Agility Standings for 2007 in Open 20"
Qualified and Won First  Place in Novice Touch N Go,

Qualified and Won Second  Place in Regular 1,

Qualified and Won First  Place in Regular 2

Qualified in Novice Chances

Qualified and Won Second Place in Novice Tunnelers

at the Canines in Action trial.  This was a great weekend for Quik who Qualified 5 of 10 runs with only two knocked bars. 

Won  Winners Dog and Best of Winners for a 4 point major

Thank you Mr. James Burns for recognizing Quik

Won  Winners Dog, Best of Winners and Best Opposite Sex  for  1 point, completing his requirements for his AKC Championship

Thank you Mrs. Patricia Gellerman for recognizing our boys.